Artificial Intelligence transforming the digital experience in the insurance industry
With an impeccable combination of Composite AI, domain expertise and pre-built customer journeys, we at InsureBuddy help insurers deliver frictionless and personalised digital CX while achieving cost reduction and revenue uplift.
Kick Start your strategic journey towards AI-Powered Personalised insurance services.
Your Innovation partner
Information, Transaction, Onboarding (eKYC), Authentication, Advise, Churn prevention, Customer Segmentation, Offers and more. InsureBuddy has pre-built solutions across segments :motor, medical , travel and property so that no matter what your customers need, we make sure you have the means to serve them.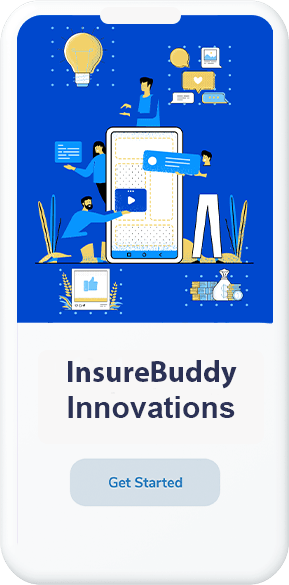 WhatsApp Chatbots help make conversations personalised and real-time. It enables policyholders to communicate with their insurers on a conversational platform.
It helps in frictionless onboarding of new customers with eKYC for insurance seamlessly in 3 minutes or less.
Multilingual omnichannel chatbots provide the flexibility to change the data collection form flow, validations and integration characteristics at warp speed. New account opening solution with AI powered NLP based chatbot.
It provides a detailed agent assist dashboard for agent support. Maintain an audit trail of all the actions on the bot.
Coupled with a humanised front and multilingual domain-specific NLP, a digital human engages with customers using a multi-sensory approach- Lip synced Voice, emotions, expressions and inline text.
Manage leads, delight customers with micro targeted recommendations campaigns based on behaviour, persona & current conversation context.
Why InsureBuddy
InsureBuddy is a domain specific Artificial Intelligence platform for collective intelligence across silos of systems, products, departments and processes.
The combination of design thinking,applied Ai, user experience, insurance technology , customer experience & business expertise to foster continuous co-innovation.
Comprehensive AI

Customer journeys embedded with NLP, Computer vision, Speech, Recommender System.

Faster time to market

Deploy Artificial Intelligence solutions in weeks with Pre-built AI models, Domain NLP, Data pipeline, Language packs, Customer journeys, Channel integrations & Core banking adapters

Future Proof

Extendable AI infrastructure to add new models, journeys, languages, intelligence et al

Domain Expertise

Motor, medical, travel and property insurance.
Get in touch with us
See how InsureBuddy helps you personalize customer engagement & increase cross sell, upsell & conversion